How to choose an Exterior colour scheme

By
Top Coat
·
1 minute read
Traditional
For a beautiful, timeless colour scheme try the subtle shade of Tranquil Retreat with a contrasting roof in Colorbond Monument. To highlight trims or architectural details, add a clean, crisp white such as Vivid White™.
Contemporary
This lighter grey colour scheme is soft and relaxed and will work beautifully for contemporary exteriors, as well as a traditional weatherboard. Terrace White is a cooler white with a greyish undertone, pair it with Lexicon on the trims, windows and details and Colourbond Shale Grey on the roof.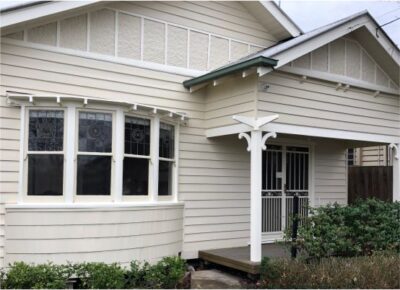 Shadowed
Darker greys have become extremely popular in Australian exteriors. Bring a darker, moodier scheme to life by using Teahouse as the main wall colour. Use Dulux Dieskau for any trims, windows or architectural details and Domino as the roof colour.
Bright Spot
Use bold hits of colour in architectural details such as the front door, pot plants and letterboxes to express your personal style. The popularity of mid century architecture inspires us to experiment with colour on exteriors for a modern take on architectural colour palettes.
Doors
An easy way to make an impact with a colour is by painting your door a bright or deep colour to add personality and character to your home.
Designer Tip
Doors and trips are great ways to experiment with colour and make the space your own.